Last year I started a series of quick mapping tips, meant to be read over lunch, that would cover a series of different questions. These are posted daily to my Google+ and Facebook pages. Rather than post them up everyday on here, I've opted to collate them on a weekly basis and plan to post these up on Saturday mornings for easy reading over the weekend. This week it's City Map icons, mountains and creating aged paper map handouts.
How to create simple city icons in Photoshop
This is more of a series of pointers to tools that will make your life easier. The actual tips are in the image this time.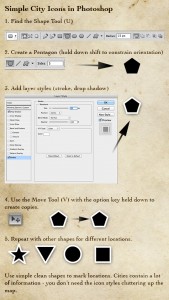 Some useful tricks here:
When you're on the Move Tool (V), if you hold down Option (Alt on Windows), the tool will create a copy of an object and move that rather than moving the object itself. This saves a lot of copying and pasting, or duplicating layers and really speeds up laying out a lot of icons.
There's a little arrow beside the list of shapes in the Shape Tool toolbar. That has all sorts of useful options, like arrows on lines, or turning polygons into stars.
Layer styles are very powerful. They are worth any amount of time invested into learning them, especially as they can be saved (using the New Style… button in the dialog). Once saved they can be applied very quickly.
This originally appeared here.
Top Down Hand Drawn Mountains in Gimp or Photoshop
After I put together a post about drawing hills, I had a request to do the same for mountains. Here's a walk through of my process. For this, you need any piece of software that allows you to use layer blend modes, specifically overlay. I know these appear in Photoshop and Gimp, and I'm pretty certain they're available in others too. It also helps if you have a tablet, but this can be done using a mouse with a low brush opacity to build up the shadows gradually.
I build up mountains in 5 steps over a textured brown background. I find cgtextures great for good backgrounds, or you can use this one (on the right). I've provided it CC-BY-NC licensed so that you can use it for any non-commercial purpose.
Okay, onto the mapping.
Draw the ridge line for your mountains. Mountains form in lines and create ranges spanning long distances, and help to form natural dividing lines for countries. Don't make it too straight. If your hand shakes whilst you're drawing this it's a good thing.
Add in the lines for the mountain ridges that come down from the ridge line. These should bunch up near peaks and help the viewer see where the mountain tops are. They spread out as they get further from the ridge where the ground becomes flatter and easier to navigate. This part just takes a little time and practice to get it looking good.
Create a new layer and set its blend mode to overlay. Take a large-ish circular brush and either set its opacity to pressure sensitive (if using a tablet) or low opacity (if using a mouse). Now, with the colour set to black or very dark blue block in the shadow on the SE side of the mountains. Always start a stroke at or near the ridge line and draw away from the ridge. That will result in the most overlapping strokes being beside the ridge. This means the darkest regions are beside the ridge, and also you'll get lots of details around the ridge. Now pick a few region on the SW side of the ridge that would be in shade and block those in too. Switch to white, and do the same for highlights on the NW side.
Create another layer and once again set it to overlay. Reduce the size of your brush by at least 50% and repeat the process. This time you're looking for the drakest shadows and the brightest highlights to give some detail and definition. Focus on mountain peaks and the top of the ridge line.
Create a final layer, and set it's mode to colour. Using a large fuzzy brush, and pure grey, turn the peaks of the mountains grey. Then using the same fuzzy brush, lay in some verdant green around the base. You can also go back to your first overlay layer here and spread the shadows and highlights into the surrounding plains to blend the mountains in with the background.
The biggest leap of faith here is trusting that you can be fairly loose on your overlay layers and it will some out fine. Here's a quick look at what my overlay layers look like as normal layers on a grey background. You can see that the brush strokes aren't that careful, but when they are combined into the overlay layers, they look just fine.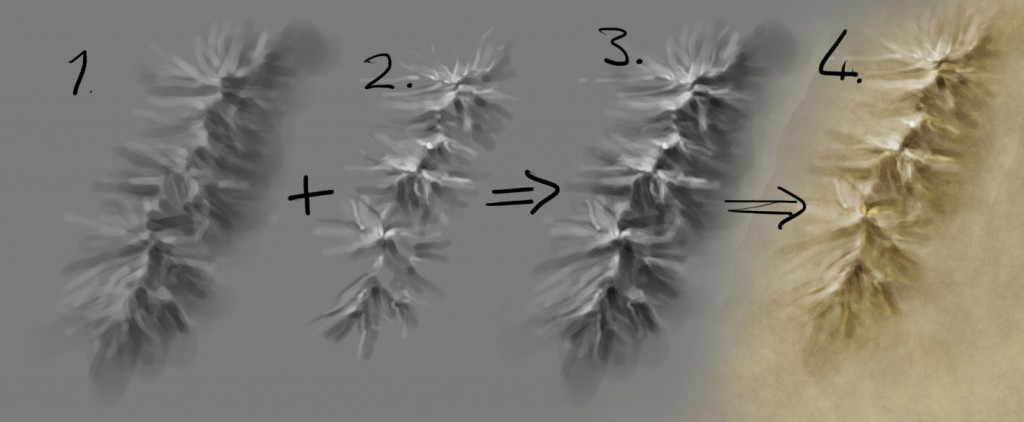 You can download the .psd of this mountain test here. This mini-tutorial originally appeared here.
There's also a video version of this tutorial:
Turning any map into an aged paper handout
The key to a good map is the information it presents. As soon as you've done the line drawing on a map, it should be perfectly possible to pick it up and use it. Everything after that point is polish to make it pretty. Today I'm looking at taking a simple map on a white background and turning it into an aged paper handout.
First of all you need a good paper texture. There are thousands of these free on the internet. As always, www.cgtextures.com is a good bet, under Paper->Plain. You can also find hundreds of paper textures on deviantArt.com (just search for "paper texture"). With this in hand it's a quick hop to a pretty map: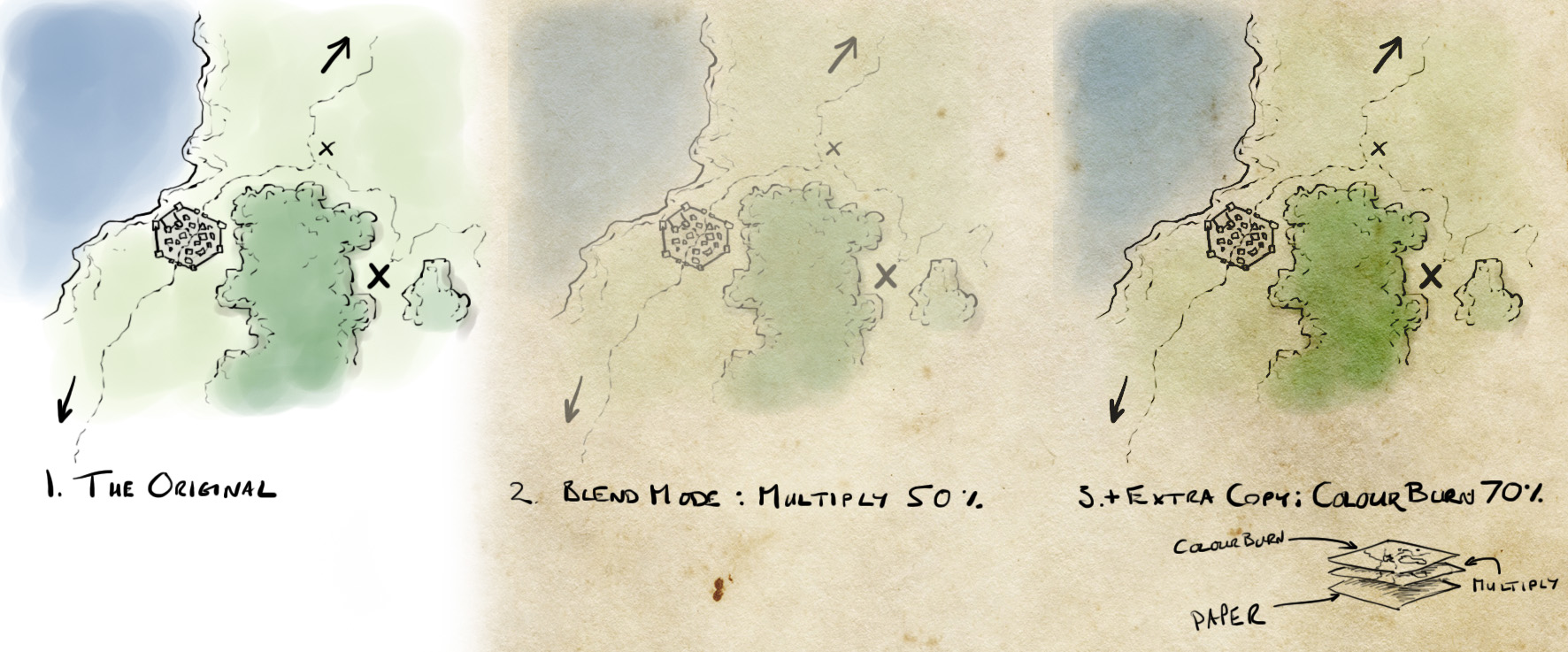 (as always you can download this fullsize, or download the psd here)
Take the original map – here we have a simple 3 colour map with a couple of locations marked with crosses. It's useful, but not that atmospheric.
Add a parchment background as a layer behind the map. You won't see it initially (the white background blocks it out) so change the blend mode to multiply. This only darkens, so the white background will disappear. Drop the opacity of the layer to 50% to give a light watercolour look.
The 50% multiply layer is a little washed out, and we want to darken the lines and bump up the colours. To do this, duplicate the layer and set the blend mode to colour burn. This will boost the colours and burn in the dark lines – and once again the white is transparent for this blend mode.. I've set it to 70% opacity.
Play with the opacity of the two blend modes to get a look that you like. You can also use colour and saturation blend modes with this to build up a nice effect. And just like that you have an aged paper hand out. Much easier than tea staining or baking a hand drawn map, and with less chance of setting fire to the oven.
This originally appeared on G+.